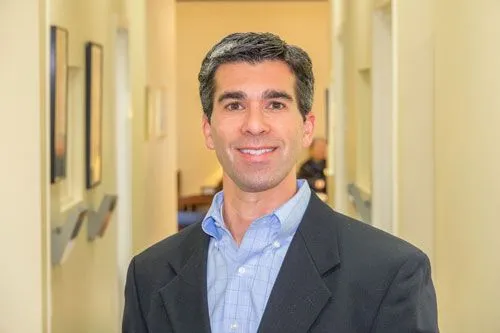 Dr. Eric Bran spent four years working in an ophthalmology practice and laser vision correction surgery center in New York City before coming to Ridgefield in 2003. He is a New Jersey native and attended Ithaca College, where he received his Bachelor of Science in Biology. Dr. Bran's professional education was in Chicago at the Illinois College of Optometry where he earned his Doctorate of Optometry and Bachelor of Science in Visual Science. His specialty training included pediatrics, contact lenses and management of eye disease. His professional interests are in pediatric eye care, specialty contact lens fitting, LASIK surgery co-management, dry eye, sports vision and vision therapy.
Dr. Bran is a partner in Ridgefield Family Eye Care and a Co-Director of the Institute for Sports Vision. He conducts sports vision assessments to evaluate vision skills and eye-hand coordination skills that can be improved to help athletes perform at their peak level. He has been a member of the American Optometric Association for over 15 years, and a member of the Sports Vision and Contact Lens sections of the AOA. In addition, he is a member of the Connecticut Optometric Association and the College of Optometrists in Vision Development providing services in developmental vision care and vision therapy.
Dr. Bran enjoys using the latest in eye care technology at our office and is a former editor and author for a monthly optometry magazine about new products and practice management. He is also a consultant for The Power Practice, the leading optometry practice-building consultation service in the United States.
Dr. Bran has two children and you'll often see him with his wife and kids around town. In his free time, Dr. Bran plays ice hockey, soccer and enjoys scuba diving and photography.