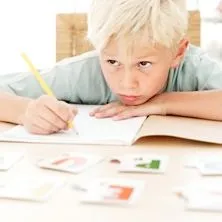 What is Vision Therapy?
Vision Therapy is an individualized, supervised, treatment program designed to correct visual-motor and/or perceptual-cognitive deficiencies. Vision Therapy sessions include procedures designed to enhance the brain's ability to control:
eye alignment
eye teaming
eye focusing abilities
eye movements
visual processing
Visual-motor skills and endurance are developed through the use of specialized computer and optical devices, including therapeutic lenses, prisms, and filters. During the final stages of therapy, the patient's newly acquired visual skills are reinforced and made automatic through repetition and by integration with motor and cognitive skills.
Who Benefits From Vision Therapy? Click to learn more

Children and adults with visual challenges, such as:
Learning-related Vision Problems
Vision Therapy can help those individuals who lack the necessary visual skills for effective reading, writing, and learning (i.e., eye movement and focusing skills, convergence, eye-hand activity, visual memory skills, etc.).
Poor Binocular Coordination
Vision Therapy helps individuals develop normal coordination and teamwork of the two eyes (binocular vision). When the two eyes fail to work together as an effective team, performance in many areas can suffer (reading, sports, depth perception, eye contact, etc.).
Strabismus and Amblyopia
Vision Therapy programs offer much higher cure rates for turned eyes and/or lazy eye when compared to eye surgery, glasses, and/or patching, without therapy.
Stress-induced Visual Difficulties
Children and adults in our technological society constantly use their near vision at work and at home. C.V.S. (Computer Vision Syndrome) is one of the fastest growing health concerns in the workplace today. Environmental stresses on the visual system (including excessive computer use or close work) can induce eyestrain, headaches, and/or visual difficulties which can be effectively treated with corrective lenses and/or Vision Therapy.
Concussion
A concussion or Traumatic Brain Injury (TBI) or Acquired BrainInjury causes damage to the brain as a result of a blow to the head, stroke, orneurological dysfunction. It changes the way your brain functions. Commonphysical symptoms of concussion are headaches, dizziness and vision problems.